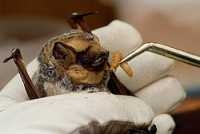 NorCalBats is a handful of people that are trying to do an arm load of work. We are spend our own money to Build facilities, Feed, Nurse, Transport and Lecture about bats. With fuel and supply cost being what they are, it has become a strain on our personal incomes.
Funding for our goal is generated solely by donations and lectures. No money is received from California Department of Fish & Wildlife, U.S. Department of Agriculture, any state or federal agency, or major corporation. We rely upon the gracious generosity of individuals who want to help us save California bats. Although we have applied for non-profit status but to date have not received it. All donated funds will go toward the care of sick, injured and orphaned bats, as well as efforts to protect bats.
Anything you can contribute will be greatly appreciated. Donations are 100% dedicated to bat conservation, rescue, rehabilitation and release. All NorCal Bats staff are volunteers, no salaries are paid. All proceeds go directly to veterinarian bills, medication, food and care for the bats.
If you prefer, you can mail a check payable to: NorCal Bats
NorCal Bats
P.O. Box 933
Davis, CA 95617-0933
Please make sure that you include your Name & Address so we can respond.
Thank you for your support!
NOTE: WE ARE NOT YET A NON-PROFIT ORGANIZATION