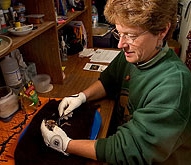 NorCalBats is dedicated to the rescue, rehabilitation and release of bats throughout Northern California. In addition, we are committed to public education regarding the environmental benefits of bats, and dispelling fears and myths that lead to the death of roosts and colonies. Located in the Sacramento Valley, trained volunteers care for injured and orphaned bats throughout the valley and surrounding foothills.
Learn about these animals and their importance as insect control. Inform others and help protect our natural world. Dispel misconceptions and save these highly valuable mammals with education and rescue.
Our organization is funded through donations and presentations. We don't receive any funding from the California Department of Fish & Wildlife, U.S. Department of Agriculture, any state or federal agency, or major corporation. Help us save the bats of California! Please contribute.
Permitted through: Wildlife Rehabilitation & Release P.O. Box 868 Penn Valley, CA 95946