Join the Yolo Basin Foundation to learn about and view live bats, native to Northern California, at one of our popular summer events.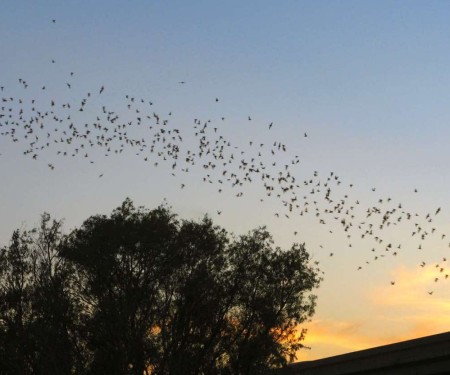 Bat Walk and Talk series begins in June and runs to the beginning of September. Following a 45 minute indoor presentation on bat natural history, the group will carpool out to the Yolo Bypass Wildlife Area to watch one of the largest colonies of Mexican free-tailed bats in California as it emerges in large ribbons to hunt insects at sunset. To get to the bat viewing site, we will travel through leased rice farming fields to an area not open to the public.
The whole experience takes about 3 hours.
See the Yolo Basin Foundation Bat Walk and Talk page for details.
Bats swarm in Yolo County overpass
KCRA, Tom Miller, August 27, 2017
360° Video: Flight of the Bats
(Best viewed on smart phone)
These bats don't need a cave, they have a bridge
KCRA, Tom Miller, July 13, 2016
KQED Quest: "Bats Beneath Us"
Featuring Corky Quirk
The Invisible Mammal: "The Bat Rescuer"